News for January, 2000!
1/30/00 -- Happy New Year! This month saw the Grand Opening celebration of Sensei Jim Silvan's new dojo in Concord, California. In conjunction with this event was a seminar held to raise money donated to the family of Sensei Walter Todd who tragically passed away in November of 1999. (Information on donating to the Todd family can be accessed here). Joining Sensei Silvan and his students to celebrate and demonstrate their martial arts skills were Professor Vinton Koklich (American Kenpo karate); Sensei Ken Shockley (Shorin Ji-Ryu karate); Sensei Rocky Ryan (Shorin-Ryu karate, Jujitsu); Sensei Tim Evans (Shorin-Ryu karate); Master August O'Neal (Tae Kwon Do); Sensei Aileen Martinez (Shorin Ji-Ryu karate); Sensei John Lofton (Renbukai karate).
Sensei Silvan's dojo is located at 3494 Clayton Road. Classes are held daily for all ages and experience levels. Further information can be obtained by calling (925) 691-6747 or by contacting the RyuBuKan dojo.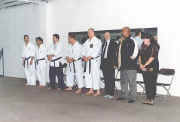 Instructors and guests at Silvan Grand Opening. From left to right: Pedro Bernardy, Ron Lok, John Lofton, Tim Evans, Rocky Ryan, Ken Shockley, August O'Neal, Aileen Martinez