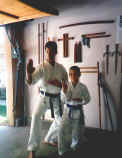 With my student, Sloan Graham, 1997
With Joey Cruz and Mike Evans, 1998

With Hokama Tetsuhiro Sensei and students, 1995
With Sensei Chris Peterson and Professor Wally Jay, founder of Small Circle Jujitsu. (Note: The black belt worn by me in this photo was for a magazine article on Sensei Peterson in which I served as his demonstration partner. Although I have trained in Small Circle Jujitsu I have never been ranked in this art.)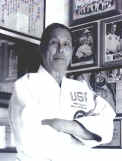 Founder of Small Circle Jujitsu.
A true gentleman and master of the martial arts.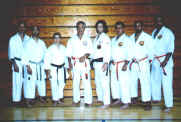 With fellow instructors at Noujaim's Karate "Kamp" 1997.
Left to right: Joey Cruz, Nyree Tupasi, Nabil Noujaim, Chris Peterson, Oscar Rivas, Robert Rowley, Javier Pacheco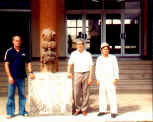 From my first trip to Okinawa, 1980. Left to right, Sensei Kimo Wall, Nakamura Yoshio Sensei, Matayoshi Shinpo Sensei.
Sensei Nabil Noujaim (left) and Sensei Oscar Rivas (far right)